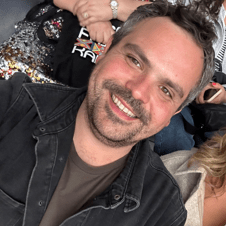 James Beacham
Group Head of HR – Human Resources
Fun Fact: When i was 13 i was on a nationwide poster campaign for Transport for London discouraging anti-social behavior on public transport.
Favorite Food: Black Daal from Dishoom! 
Favorite Italian Food: Aubergine parmigiana

James joined Rondanini in 2020 as the head of the HR team, overseeing various essential functions such as general HR operations, recruitment, and payroll. With a strong background in marketing, James brings a unique perspective to his role, blending strategic thinking and a keen understanding of human resources.
Beyond his professional endeavours, James finds joy in nurturing personal connections and exploring the world. He cherishes the company of friends and embraces the opportunity to travel, seeking new experiences and immersing himself in different cultures. Among his favourite cities are the vibrant and bustling New York, the charming and culturally rich Amsterdam, and the historically captivating Edinburgh.
Before transitioning into the field of recruitment and HR, James built a successful career in marketing. This background has equipped him with valuable skills in strategic planning, effective communication, and branding, which he seamlessly integrates into his HR leadership role.
Recognising the importance of mental health, James has also acquired qualifications in mental health first aid. This expertise allows him to provide support and guidance to employees who may be experiencing mental health challenges, fostering a supportive and inclusive work environment.
Driven by a passion for empowering individuals and teams, James continuously seeks opportunities for personal and professional growth. He remains up-to-date with the latest trends and best practices in HR, always striving to improve his skills and expand his knowledge.
James' commitment to the well-being of Rondanini's employees, coupled with his diverse skill set, makes him a valuable asset to the company. His ability to merge his marketing background with HR expertise, combined with his qualifications in mental health first aid, enables him to create an environment that promotes both professional success and personal well-being.
In summary, James is a dedicated HR leader with a marketing background, passionate about travel and spending time with loved ones. His proficiency in mental health first aid further demonstrates his commitment to employee well-being. With his versatile skill set and genuine care for others, James plays a pivotal role in fostering a positive and supportive work culture at Rondanini.